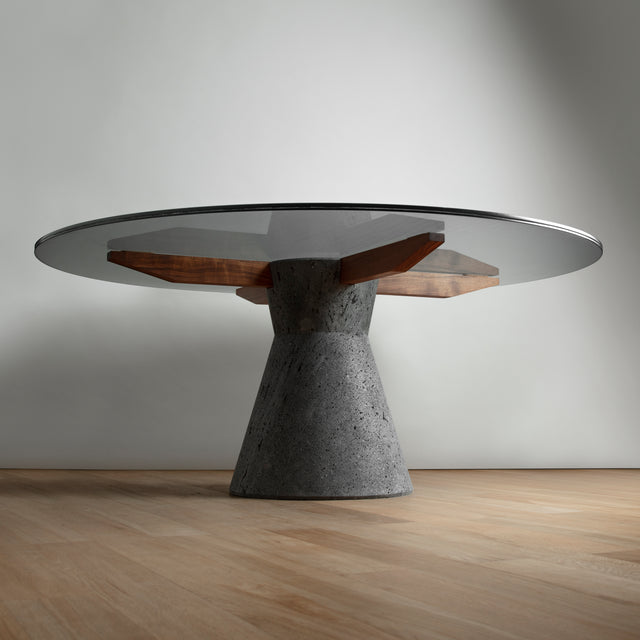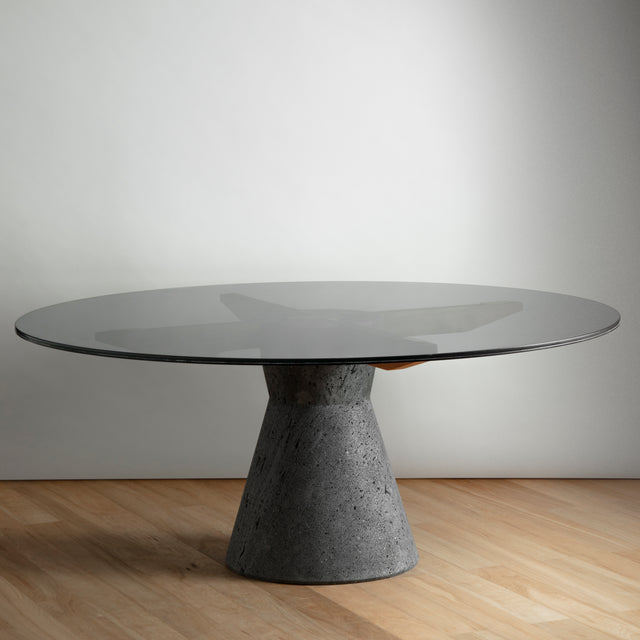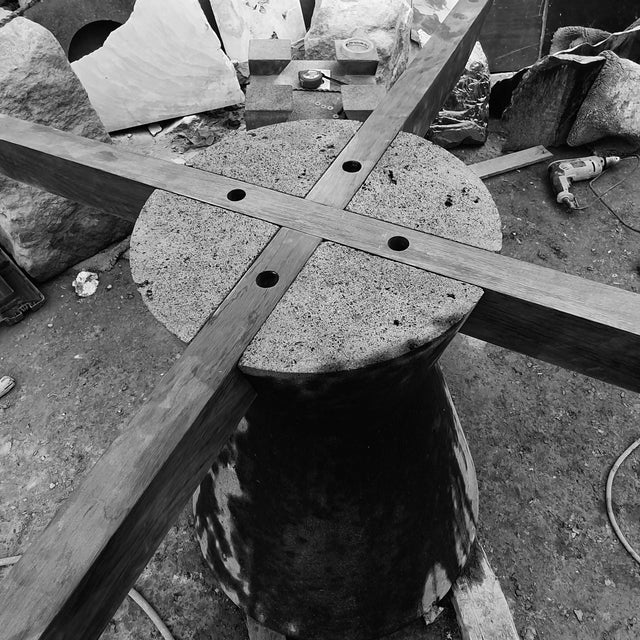 Introducing our outstanding dining table, where the combination of materials creates a stunning masterpiece. This exceptional piece features a volcanic stone monolith as its base, serving as a captivating point of intersection for its cover top. The cover top consists of a solid wood crosspiece and a circular tempered smoked glass surface, resulting in a harmonious fusion that exudes timeless elegance.
At the core of this remarkable dining table is the volcanic stone monolith, expertly shaped to showcase its raw and distinctive beauty. Each piece of volcanic stone carries its own unique markings and textures, adding a touch of natural allure to the table's design.
The solid wood crosspiece adds warmth, character, and organic appeal, perfectly complementing the ruggedness of the volcanic stone base. Crafted with precision, the wood crosspiece showcases the natural grain patterns and brings a sense of rustic charm to the overall aesthetic.
The circular tempered smoked glass surface adds a touch of sophistication and modernity. Its sleek and translucent appearance creates an intriguing visual contrast against the organic elements of the volcanic stone and solid wood, adding depth to the table's design.
The combination of these outstanding materials results in a dining table that embodies brutalist aesthetics and functional design. Its simple yet captivating lines make it suitable for various settings, whether indoors or outdoors. From dining rooms to patio spaces, this dining table becomes the centerpiece that effortlessly elevates any environment.
Experience the unique allure of our stunning dining table, where the volcanic stone monolith, solid wood crosspiece, and tempered smoked glass surface converge in a truly exceptional composition. Embrace the captivating blend of materials and craftsmanship, and bring home a dining table that exudes timeless beauty and unmatched artistry.
Details
Materials and techniques:
Lava stone - Recinto (Polished mate)
Oiled or varnished Tzalam wood
12mm laminated tempered glass

Lead time:
It will take 12 weeks to make this piece
Download:
Tear sheet
Code SKU: 
CMX-DTA-STRI-LR-TZ-GL-180
Ships worldwide from: Mexico City
Ships as: Freight
Dimensions
| | | | |
| --- | --- | --- | --- |
| Widht | Depth | Height | Weight |
| 180 cm | 180 cm | 75 cm | 400 kg |
| 70.87 Inch | 70.87 Inch | 29.53 Inch | 881.85 Lb |
Contact for pricing
All our items are customizable to your requirements.
For a special quotation please email us at info@carpinteriamexico.com with your desired product(s) and shipping address.
Are you a trade customer? Learn about CMX professionals