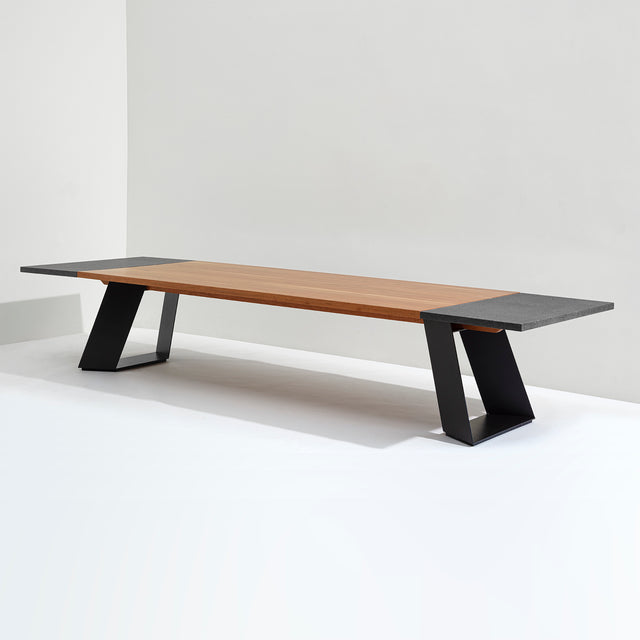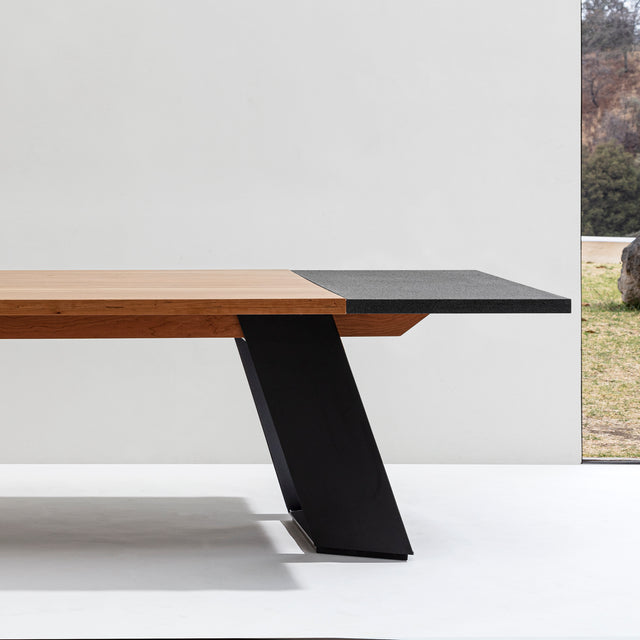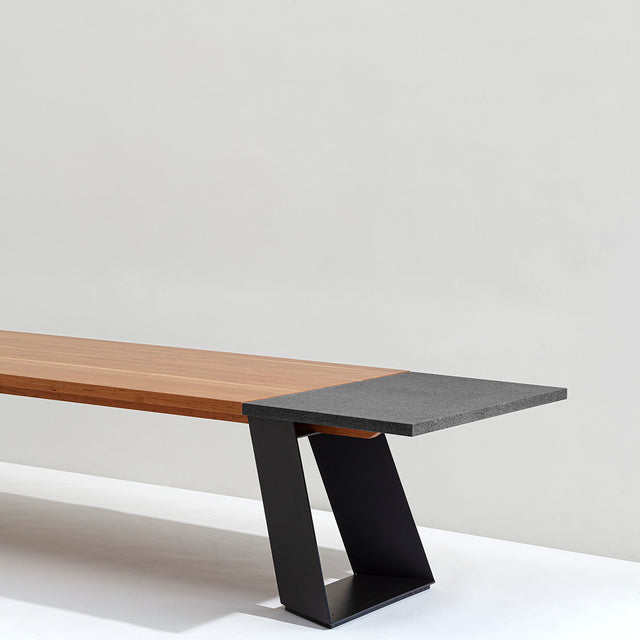 The design of the dining table that incorporates wood, lava stone, and steel in a contemporary style focuses on merging natural and modern elements to create a visually appealing and functional piece.

The table's surface is crafted from high-quality wood, carefully chosen for its warmth, durability, and grain pattern. The wood brings a sense of organic beauty and a touch of traditional elegance to the design. Its natural imperfections and unique characteristics enhance the table's overall charm.

Incorporated within the wooden surface is a section of lava stone, which adds a distinct and captivating element to the table. Lava stone, known for its textured surface and rich colors, introduces a touch of earthiness and ruggedness to the design. Each piece of lava stone is individually selected, ensuring that no two tables are exactly alike.

To provide support and stability, the table features a sleek steel frame. The steel is expertly crafted to complement the overall design and add a modern touch. Its clean lines and minimalist aesthetic create a sense of simplicity and sophistication.

The combination of wood, lava stone, and steel in this contemporary dining table design offers a unique blend of natural and industrial materials. The contrasting textures, colors, and finishes create an eye-catching and harmonious composition. This table not only serves as a functional surface for dining but also adds a touch of artistic flair to any space.

Overall, the design of this dining table harmoniously brings together wood, lava stone, and steel to create a visually striking and versatile piece that seamlessly blends natural elements with contemporary aesthetics contrast.
Details
Materials and techniques:
Walnut or Cherry wood
Lava stone - Recinto (Polished mate)
Steel - powder coated
Lead time:
It will take 12 weeks to make this piece
Download:
Tear sheet
Code SKU: 
Cherry: CMX-DTA-TECT-CH-LA-ST-400 / CMX-DTA-TECT-CH-LA-ST-300
Walnut: CMX-DTA-TECT-WA-LA-ST-400 / CMX-DTA-TECT-WA-LA-ST-300

Ships worldwide from: Mexico City
Ships as: Freight
Dimensions
| | | | |
| --- | --- | --- | --- |
| Widht | Depth | Height | Weight |
| Extra Large | | | |
| 400 cm | 120 cm | 75 cm | 500 kg |
| 157.48 Inch | 47.24 Inch | 29.53 Inch | 1,102.31 Lb |
Contact for pricing
All our items are customizable to your requirements.
For a special quotation please email us at info@carpinteriamexico.com with your desired product(s) and shipping address.
Are you a trade customer? Learn about CMX professionals